Roadsoft has a lot of features that are too small to fill a Roundup on their own. In this issue, we look at a few of these features including external layer support, exportable and printable maps, custom field labeling, and coordinate display unit selection.
Roadsoft's Road module has been redesigned with the addition of new some features and improvements to others.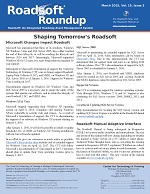 Issue 15.2 |
This issue discusses enhancements and upcoming changes for Roadsoft, including the impact of Microsoft support changes and the successes of the Point Pavement Marking focus group.