Roundup Thumbnail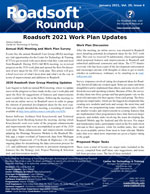 Roundup Summary
This issue of the Roadsoft Roundup summarizes the proceedings of the Fall Roadsoft User Group meeting, as well as the results of the Roadsoft 2021 work plan survey.
This issue includes Spotlight articles on Senior Software Architect Nick Koszykowski and Principal Programmer Luke Peterson.
Finally, in Tips & Tricks we highlight the ability to  graph roads surface trends in Roadsoft.