RUCUS 2017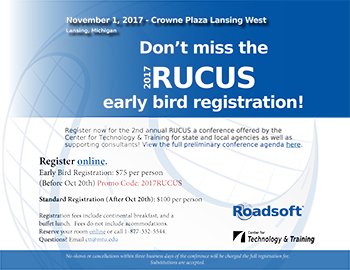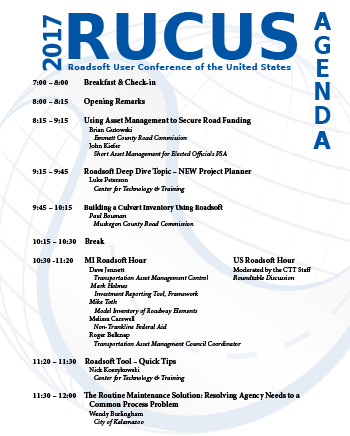 Presentations:
1. Using Asset Management to Secure Road Funding
Brian Gutowski, Emmet County Road Commission
John Kiefer, Center for Technology & Training
2. Building a Culvert Inventory Using Roadsoft
Paul Bouman, Muskegon County Road Commission
3. Michigan Hour
Mike Toth, State of Michigan
Mark Holmes, Michigan Department of Technology, Management & Budget
Dave Jennett, Center for Shared Solutions
Melissa Carswell, Michigan DOT
4. The Routine Maintenance Solution: Resolving Agency Needs to a Common Process Problem
Wendy Burlingham, City of Kalamazoo
5. Roadsoft Tricks & Treats: Not-So-Scary Roadsoft Tips
Carla Schubert, Elkhart County Highway Department
Jeanette Huang, Elkhart County Highway Department

6.The Power Combination: Roadsoft & the Safety Application
Alexander Patsy, Genesee County Road Commission
Pamela Blazo, Michigan DOT
7.Using the Traffic Count Module: A Pragmatic Solution for Process Integration
Jason Lucier, Ionia County Road Commission
Event Details
2017 Roadsoft User Conference of the United States
Crowne Plaza Lansing West
Lansing, Michigan
Registration/Breakfast 7:00 AM - 8:00 AM
Event Starts 8:00 AM - 4:30 PM

Click the images above to view the event flyer and preliminary agenda.
Cancellation Policy: No-shows and cancellations within three business days prior to the workshop or conference will be charged the full registration fee. Substitutions will be accepted. Michigan Tech reserves the right to use any pictures taken during this event for advertising and/or instructional purposes.