RUCUS 2016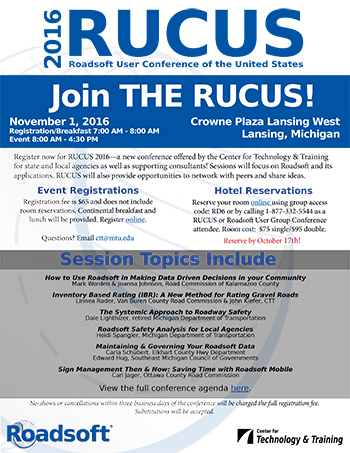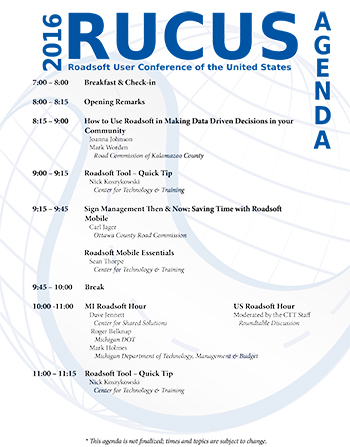 Presentations:
1. How to use Roadsoft in Making Data Driven Decisions in Your Community
Joanna Johnson, Road Commission of Kalamazoo County
Mark Worden, Road Commission of Kalamazoo County
2. Sign Managment Then & Now: Saving Time with Roadsoft Mobile
Carl Jager, Ottawa County Road Commission
3. Michigan Hour
Roger Belknap, TAMC Coordinator
Mark Holmes, Michigan Department of Technology, Management & Budget
Dave Jennett, Center for Shared Solutions
Melissa Carswell, Michigan DOT
4. Inventory-based Rating (IBR): A New Method for Rating Gravel Roads
Linnea Rader, Van Buren County Road Commission
John Kiefer, Center for Technology & Training
5. Yield Right Away! Tips for Maintaining and Governing Your Roadsoft Asset Management Data
Carla Schubert, Elkhart County Highway Department
6. Maintaining & Governing Your Roadsoft Data
Edward Hug, Southeastern Michigan Council of Governments
7. Deep Dive into the Filter Builder
Mary Crane, Center for Technology & Training
8. The Systemic Approach to Roadway Safety
Dale Lighthizer, Center for Technology & Training/Retired Michigan DOT
9. Roadsoft Safety Analysis for Local Agencies
Heidi Spangler, Michigan DOT
10. Panel Discussion: Using Shapefiles Across GIS Systems
Eric Dziurka, Bay County Road Commission
Richard Sprague, Kent County Road Commission
Keith Depp, City of Rochester Hills
Marcus McNamara, OHM Advisors
Event Details
2016 Roadsoft User Conference of the United States
Crowne Plaza Lansing West
Lansing, Michigan
Registration/Breakfast 7:00 AM - 8:00 AM
Event Starts 8:00 AM - 4:30 PM

Click the image below to view the event flyer.
Cancellation Policy: No-shows and cancellations within three business days prior to the workshop or conference will be charged the full registration fee. Substitutions will be accepted. Michigan Tech reserves the right to use any pictures taken during this event for advertising and/or instructional purposes.